Radical Modernism is a mini publication that showcases the work of American designer Dan Friedman (1945-1995), and Italian architecture firm Superstudio (1960s). The book explores Friedman's idea of "working outside of the margins." I wrote a small introduction essay that is included throughout the project documentation below.
Print publication
Advisor: Doug Scott
2021


Introduction

In graphic design, we think of margins as the white space between text blocks and the edges of a document. Setting the margins is often one of the first few steps a designer takes in creating an overarching system to organize text, images, and information, and to ultimately communicate ideas to readers.

In his essay "Radical Modernism," Dan Friedman writes with urgency about the importance of questioning the typical frameworks that make up graphic design practice. He writes, "My goal in working in the "margins" has been to find a fresher view into the center of things."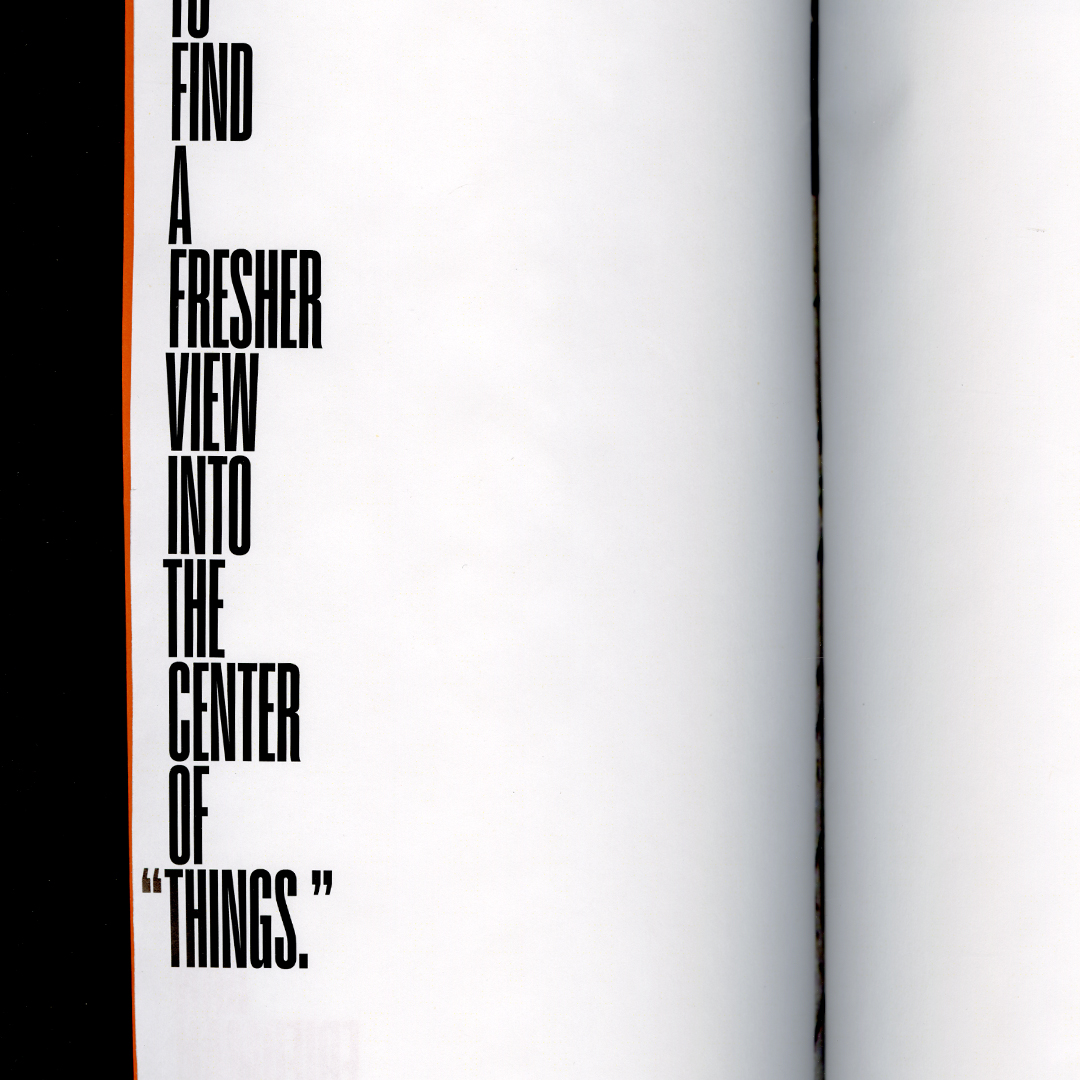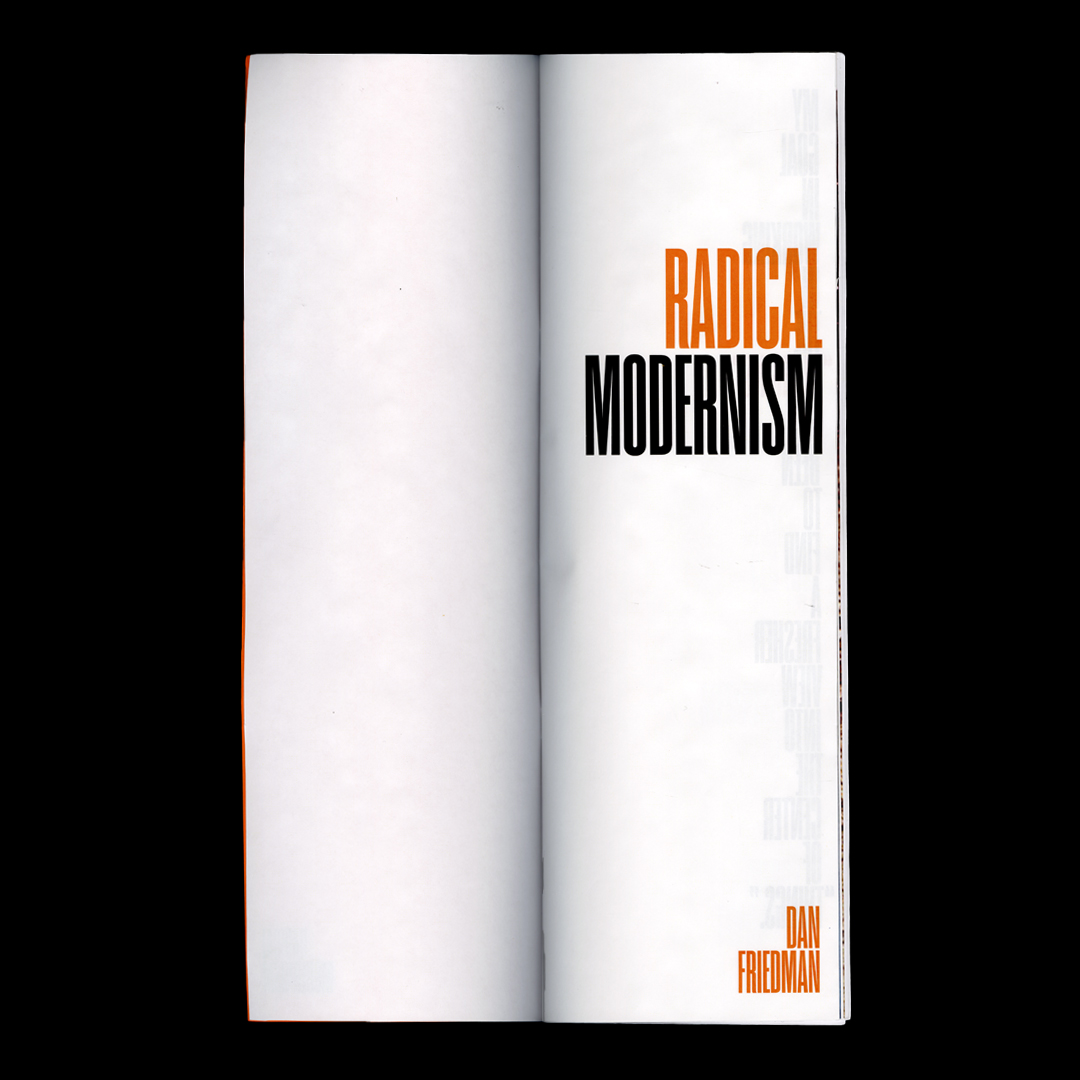 Since the time of this writing in 1994, our contemporary understanding of "margins" and other critical design parameters have changed drastically. We no longer create layouts for one size sheet, paper, or spread, but rather an entire spectrum of operating systems, browser widths, and devices. Our tools have become increasingly automated at a rate that even Friedman may not have predicted, and it has become almost impossible to locate human intuition behind the saturated landscape of templates, default settings, and yes, automated margins.

In this book, alongside Friedman's design and words are images from Superstudio, an Italian architectural firm creating utopian images in the 1960s. The Superstudio collages feature massive, infinite-seeming structures, often textured with marble grids that drape over landscapes, penetrate through cities, and support large numbers of cut-out figures that we perceive as a vast public. In all their images, Superstudio crops one edge of their massive forms, leaving viewers with only the ability to speculate where the structures end and begin.

Although created in different eras and under unique artistic contexts, Superstudio and Friedman share a clear appreciation for working in the edges of design spaces. They both direct our attention to the outskirts of the composition and raise fundamental questions about the way we think about marginal space and page construction. What information belongs in the "margins"? What happens when "margins" are extended, shrunk, or eliminated entirely?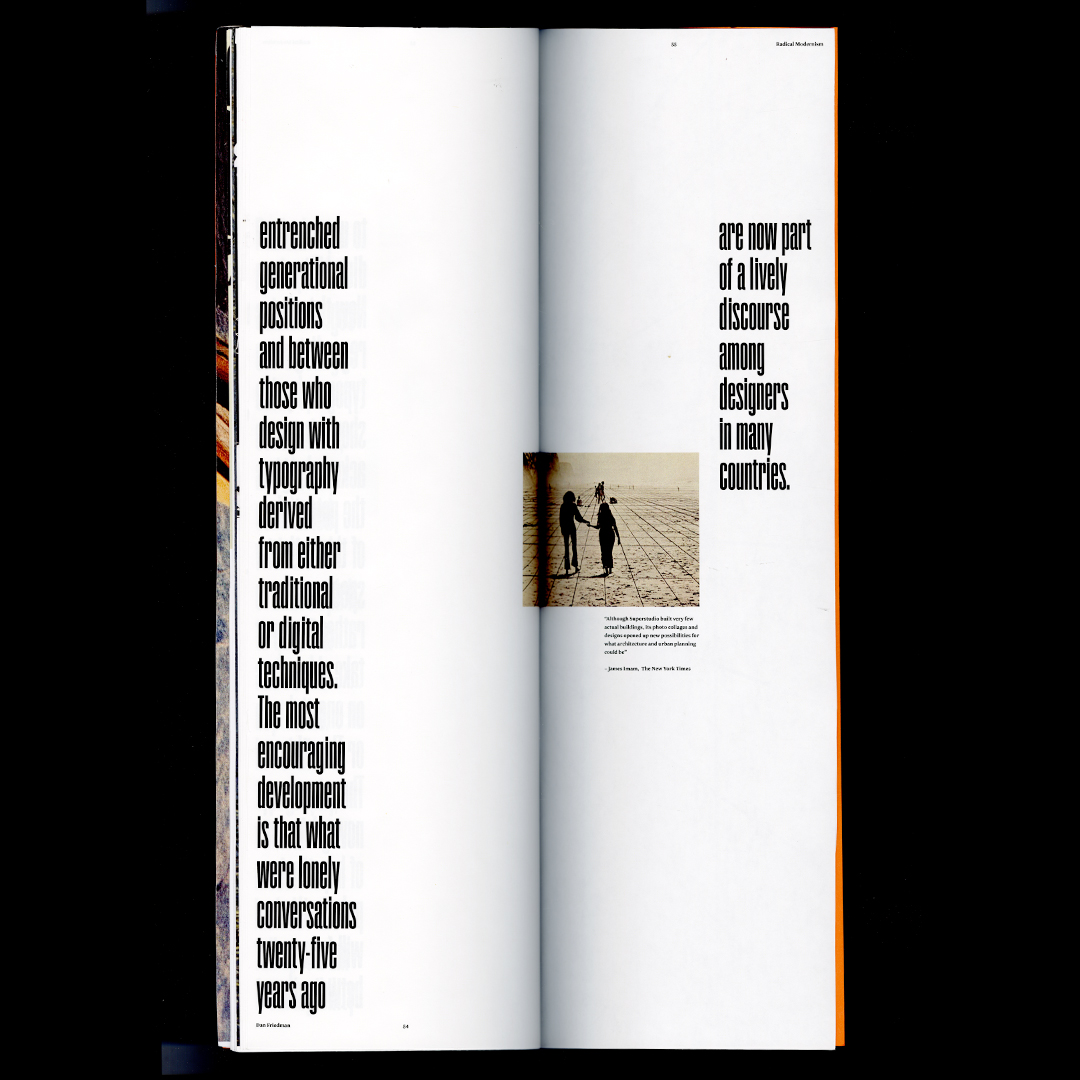 Friedman ends his introduction by telling us, "I have questioned the values we now use to distinguish between art and design, the public and private, the domestic and the institutional, in an effort to visualize modernism based on a radical reconception and an optimistic new agenda."

From the works of Friedman and Superstudio, it is clear that even and especially in 2021, a "radical reconception" demands a rigorous investigation into our typical design methodology. We must look, thoughtfully and carefully, at the relationship between content that is traditionally emphasized and that which is normally crammed into the page gutters, and at what overarching design systems perpetuate this dynamic. We must look, work, and re-work, thoughtfully and carefully, inside "margins."